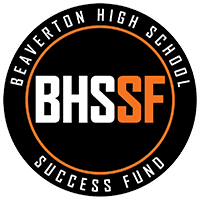 As the year closes, we would like to celebrate the many achievements that were accomplished at Beaverton High School (BHS) in 2019 with the backing of the Beaverton High School Success Fund (BHSSF). It is because of your support that we enable our students and educators to embrace their experience at Beaverton High School, helping to prepare all for the future that they choose.
The Beaverton High School Success Fund is a vital resource in helping Beaverton High School face a multitude of educational and social challenges and adjust to a variety of changes.   BHS continues to embrace the diversity of a shifting student body by creating a school culture that welcomes, respects, supports, includes, and loves every student.   Students are experiencing increased mental health challenges and need a wider array of services than high schools can traditionally provide.   Access to rigorous curriculum and experiences to support post-high school education and training is in high demand as students evaluate options for their future.   And BHS has continued to add courses, expand career pathways, and provide innovative educational experiences for students.
The involvement and support from BHSSF have helped Dr. Erwin and the staff at Beaverton High School create an atmosphere of transformation that is embodied in the spirit and learning environment each day in the hallways of the 103-year-old building, south of Second Street.
BHSSF continues to provide annual support for academic programs, student support, instructional enhancement, and facilities. These specific investments include funding for Future Days, an annual day-long event when students visit college or business sites and spend time working on their personal resumes and senior projects; Teacher Mini-grants, to spark innovation or enhanced learning opportunities in the classroom; Counselor Assistance to help meet various needs of students that range from homelessness to transportation to paying fees for student activities; and College Scholarships helping to defray expenses to deserving recipients.
2019 also represents a year of unique accomplishments and initiatives that were supported by BHSSF:
In September, we completed the BHS Plaza Project that included the opening of The Bite, the new concession and restroom facility, to better serve our fans during athletic activities.  In addition, we unveiled our new Plaza where students, parents, alumni, and community members can purchase commemorative bricks and help support BHS for many years into the future (more on that below).
This summer, BHSSF helped support a new Weight Program led by Luke Rein that have helped serve approximately 150 students/week to engage in a supervised fitness program. Feedback to this new program has been tremendous with students indicating that because of the new program, they are focusing on their physical well-being.  The program serves students from across the student body.
BHSSF also established a Wellness Fund in 2019 to help support teacher well-being in their day-to-day responsibility of educating our children. This includes luncheons, after-school team building activities, and special personal development opportunities (e.g. yoga and meditation sessions). Because of the Beaverton High School Success Fund, we can be responsive and help support these unique needs in these challenging times.
Culturally-relevant textbooks were recently added to BHS English Language Arts classes.  These include titles that represent the experiences of our student, Spanish translations of classroom novels, and Spanish language independent reading novels.  All support the development of English literacy skills for our Spanish speaking students and include them more fully in the classroom experiences.
How can one support the Beaverton High School Fund? Here are a few ideas:
On April 16, 2020, please join us at the 2020 Inspirit Celebration at The Great Room in Beaverton, OR. More information and registration details will be made available in January.
The 2020 Swing "Fore" the Future: Ralph Holland Jr. Memorial Golf Tournament will be held on June 12, 2020. Put together a foursome or join another team. And if you do not golf, please feel free to attend our dinner and auction starting at 5 PM. Event and Registration information will be available on our website in the spring 2020.
And for those who want to make a year-end charitable donation, make a gift today. You can donate online or mail a check made payable to the Beaverton High School Success Fund, P.O. Box 892, Beaverton, OR 97075.
Lastly, Buy a Brick for Beaverton High School – Purchase a brick and leave a lasting legacy to honor a special BHS student, friend, family, or business. Click here to purchase a 4×8 or 8×8 brick today.
On behalf of the Beaverton High School Success Fund Board of Directors, we wish you a very joyous holiday season.   We thank you for your past donations and continued support as we look to build upon the good work of the Beaverton High School Success Fund.   If you have any questions about the Beaverton High School Success Fund, please feel to contact us.
Jon Caplan

Beaverton High School Success Fund

Board President